It's Wednesday. The day when we come together to admit that we aren't perfect but still perfectly good. Normal, even.
Here are this week's Real Mom Confessions:
1. The kids are using their bodies as human dusters and I don't even care.
Yes, you read that right.
We're getting new furniture this Saturday and the stuff from upstairs made its way downstairs. At the moment, there is no furniture upstairs so the kids have been sliding across the floor.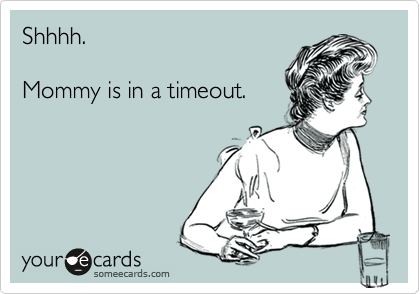 Right?!
2. I was volunteering in Hannah's classroom and there was a DEAD WORM midway up a locker. I totally thought the kid was pulling a mean outdoorsy April Fool's Day joke on an indoorsy person.
I got your number, kid, and I'm way too quick to fall for that.
Only to see the teacher, who is as equally horrified by outdoor creatures as I, mouth "It's for real." At this point, I went into shock. How a kid got a dead worm into the school and mid locker is beyond me. The teacher, mustering everything in her power not to freak, goes (insert super calm nice voice), "Now children, we don't put dead worms on our lockers."
Make. It. Stop. Never in my life did I think I'd hear that line.
My lack of maturity necessitated that I turn the other direction to wipe the tears of laughter falling from my eyes.
Who says that so pretty when you totally want to blow? Miss P, that's who.
Then she continued, "And whichever friend did that, it is not a very good choice."
Not a very good choice, indeed.
God bless the teachers.
3. Speaking of Hannah's teacher I asked her if she sent out the volunteer calendar for this month to which she responds, "It's in her bag."
What?!
I haven't opened her bag in approximately three weeks. My brain is still on the old school calendar when we were in the homestretch but now fourth quarter HASN'T EVEN STARTED. Lucky for me this conversation happened right in front of the principal.
Miss P & Mrs. H, the bag has been opened and volunteer dates are on the calendar.
4. The girls wanted a new dinner table discussion conversation piece and I came up with
this
. We got started last night, drawing "Goodness." I can't wait to see what the girls have to say tonight. Anyhoo, as I'm feeling like super mom for coming up with this idea, I looked into the pitcher and see all of these.
Apparently the girls are have been hoarding them. And apparently I default to busted meal plans equaling HyVee Chinese a bit too much.
Tell me about your week. Did you make a fool of yourself in front of your child's teacher?
Thank you for visiting! Please take a moment to
Subscribe to Fill My Cup by Email
and have every post delivered to your inbox.