"It's not hard to make decisions when you know what your values are." Roy Disney
Teens everywhere are back to school.

Because they are spending much of their day with peers, it is important that your children (and t(w)eens you love) be armed with information to make healthy choices for sexual purity and safe social media use.
So, until October 12th, my co-author, Pam Stenzel, and I are offering FREE SHIPPING on both of our books with the code BACKTOSCHOOL.
NOBODY TOLD ME (Regal Press, 2011) empowers students to choose abstinence until marriage. Dealing with

media influence, peer pressure, abuse, pregnancy, STDs, emotional heartache, AND recycled virginity,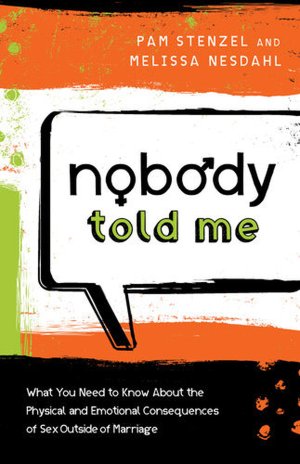 this book - endorsed by Josh McDowell and Rebecca St. James - helps everyone choose God's best from this day forward.
WHO'S IN YOUR SOCIAL NETWORK (Regal Press, 2012) encourages positive use of media, including social networking sites (Facebook, twitter, etc), television, music, movies, pornography, and gaming.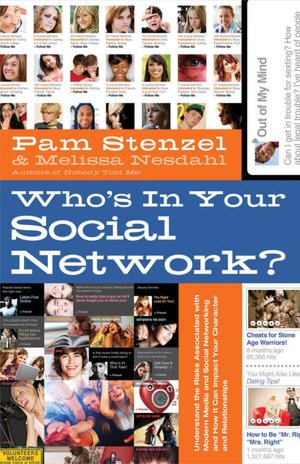 Since today's teens consume an average of 7.5 hours of media per day, media holds a lot of influence on their thoughts, attitudes, beliefs, and behaviors.
This book provides students with the information and tools they need to effectively think through their media choices and glorify God in their use of it!
Both books are written in a fun social networking style (because that is how today's teens like to communicate) with actual teens stories, questions, and comments.

The successes and failures of their own peers combined with our words will help them choose wisely so that they can experience God's protection today and His very best after saying, "I do."
After all, all of these choices influence their character and as Pam always says, "Opposites may attract when it comes to personality, but opposites NEVER attract when it comes to character." They need to know how to walk with God as a person of integrity now in order to attract a Godly spouse later.
Take advantage of the free shipping deal and order
Nobody Told Me
and
Who's In Your Social Network
for the children 12 and up you love.

Read it with them and have great conversation... or think early for Christmas :)
And, while you're at it, you can bring my awesome co-author to speak LIVE at your school or church event.

Take a listen in to part of her intro at faith-based events before getting into the "meaty stuff"…
PAM STENZEL: God Let's You Choose
from
thepamstenzel
on
GodTube
.
(She has a public school talk as well)
Pam's obviously an amazing full time speaker so her schedule is filling quickly.

There is no one like her so candidly sharing the physical, emotional, and spiritual risks with such a fun blend of humor mixed in.

Call Colin at
303-888-6876 for booking information.
Your kids will love her. I promise :)
When the student your love knows right from wrong and believes God's boundaries are for their benefit, standing strong is made not only possible, but desirable.
Help them stand firm with our fun-to-read, informative books!